"VASS Buyers Guide" is Now Online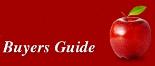 purchasing decisions. The VASS Buyers Guide has been designed to offer school division leaders access to a broad range of vendors that supply goods and services to educators. The guide is organized in several different ways to ensure that users can easily search for the vendors that can best serve their specific needs, and it features highlighted and expanded listings for companies that have worked closely and in-depth with VASS as Business Members, Associate Partners, and Partners.
"We are pleased with the work SVM [Strategic Value Marketing] has done with this Buyers Guide, which we anticipate will greatly assist school division leaders in making educated purchasing decisions," says Ben Kiser, the Executive Director of VASS.
Click here to view the VASS Buyer's Guide
Click here to read the press release accompanying the launch of this year's VASS Buyers Guide.