VASS Launches Successful Virginia Superintendents Leadership Academy Conference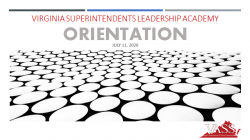 Participating superintendents left the conference with a tool they plan to use in their local school divisions called, After Action Review, which is a process developed by the military as a way for everyone to learn quickly from soldiers' experiences in the field. With this system, critical lessons and knowledge are transferred immediately to get the most benefit. Dr. Gorman reviewed the four-step process: What did we intend to happen? What actually happened? What should we sustain about what happened? What can we improve about what happened? Participants then applied the process to COVID-19 forced school closures.
The next VSLA Conference is scheduled for September 26, 2020. For information on how you can apply for the 2021-2022 VSLA cohort, contact Marcus J. Newsome; m.newsome@vassonline.org; (804)930-7448.