VASS Annual Fall Conference (2018-2019)
October 21 - 23 , 2018
VASS is combining its Annual Fall Conference with the Second Governor's Summit on the Teacher Shortage Crisis. The VASS Fall Conference is being held at the Charlottesville Omni Hotel all day on Monday, October 22 and it concludes on Tuesday morning, October 23 at 9:00 am. The Governor's Summit is being held at the UVA Darden School of Business in Charlottesville on Tuesday, October 23, starting at 10:00 am. There is no additional cost for superintendents to attend the Governor' Summit on the Teacher Shortage Crisis.

In addition to issues expected to affect public education during the 2019 Legislative Session, the VASS Fall Conference will focus on the latest policies concerning dual enrollment tuition and quality standards, passport credits, and workforce skill development; Virginia's economy; and BOE & DOE expectations in the Profile of a Virginia Graduate, how superintendents are responding, and opportunities for students around the state.
This year's conference program features 28 speakers and panelists. Several members of the General Assembly have been invited, along with other key policymakers and speakers who are featured annually, such as Bob Holsworth and Craig Wood.

The registration form for the VASS Fall Conference is at the bottom of this page.

The Governor's Summit includes speakers and break-out sessions that specifically address one of the most critical issues currently facing our school divisions – the teacher shortage crisis. This event at the Darden School of Business will involve many opportunities for discussion and input on viable solutions to the crisis.
There is no additional charge for superintendents to attend the Governor' Summit on the Teacher Shortage Crisis.
Please click HERE for an Invitation from Secretary Atif Qarni to attend the Commonwealth Summit on Teacher Retention.
Please click HERE to register (at no cost for superintendents) for the Teacher Retention Summit
Optional Activities
Sunday, October 21
VASS Executive Coaches Training

This two hour training session is offered to select sitting and retired superintendents who wish to become Executive Coaches for superintendents who are either new to the position or new to Virginia. Lunch is included.
Sunday, October 21, 12:30 – 3:00 p.m., Preston Room.
New Superintendent Orientation


If you are a superintendent who has been newly appointed this year, you are encouraged to attend this orientation. Cocktails will be provided after the Orientation.
Sunday, October 21, 3:00 – 5:00 p.m., Preston Room



Golf Outing at Old Trail Club


Participants will gather at the Old Trail Golf Course in Crozet, 15 miles from the Omni, for an afternoon of friendly golf competition in the spectacular foothills of the Blue Ridge Mountains.

The outing will feature a captain's choice format that begins with a shotgun start at 12:20 p.m. Snacks, drinks, and prizes are included.

Click here for detailed event information and the Golf Registration Form.
Reception
Sunday, October 21, 5:30 – 7:00 pm, Omni Atrium
Registration Details
Conference Fee and Registration for Superintendents, Superintendent Designees, and Retired Superintendents
The 2018 Fall Conference fee for superintendents, superintendent designees (other school division leaders), and retired superintendents is $275 per person.

The registration deadline is Friday, October 12.

In the registration form (below), required fields are indicated with a red asterisk. Mistakes made in completing the form will be highlighted in red.

Once you have submitted the registration, the person or people whom you have designated to receive a confirmation email should see that email (with registration information included) within 24 hours.

Pre-Payment is not required. However, if you would like to pay now by credit card or PayPal, you will be provided with a link to the VASS online payment portal after you submit your registration.

If you do not pay by credit card at registration, the person on the registration form whom you have identified as the billing contact will receive an invoice for payment after the conference.

If a purchase order number is provided on the registration form, it will be referenced on the invoice.

Notice of cancellation must be sent by email to Liza Scallet, the VASS Administrative Assistant, by 5:00 p.m. on Friday, October 12 . . . or you will be billed in full.

Registration for VASS Partners and Other VASS Business Members

If you would like to attend the conference and your organization is a VASS Partner or VASS Business Member, please contact Liza Scallet, the VASS Administrative Assistant, for fee and registration information.

Please note that the registration links on this web page are for use by superintendents, their designees, and retired superintendents only. Registration links for business members will be provided by Liza Scallet.
Hotel Information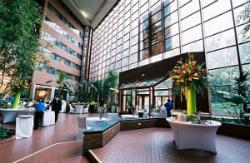 Omni Charlottesville Hotel

VASS has set aside rooms at the Omni Charlottesville Hotel with a special conference rate for superintendents and their guests.

The rate is $128 for a single or $143 for a double per night. Parking and Internet access are included in the rate.

Click here to reserve a room at the VASS rate -- OR call the Omni at 800-843-6664 and ask for the VASS rate.

The deadline to reserve a discounted room is Friday, September 28. Please do not delay in making your reservation -- only a limited number of rooms are available at the VASS rate.

Find location information and directions for the Omni here.

Residence Inn by Marriott Charlottesville Downtown

Overflow rooms are available at the Residence Inn by Marriott Charlottesville Downtown on Main Street, at the government rate of $128/studio suite. For reservations, call (434) 220-0075 by Monday, October 9.

Marriott hotel(s) offering a special group rate:
Residence Inn Charlottesville Downtown for 128.00 USD per night

Book your group rate for Virginia Association of School Superintendents.

October 21 - 23 , 2018
VASS Annual Fall Conference (2018-2019)
Charlottesville Omni
October 12, 2018